1. International taekwon-do federation
President: Master Trân Triêu Quân
1210 Wienna
Brunner Strasse 190/2/16
Austria
http://www.tkd-itf.org/
All Europe ITF taekwondo federation - A.E.T.F.
Milenijna 5/B Street
20-884 Lublin
Poland
President: Tadeusz Łoboda
http://www.itfeurope.org/
AETF - XIV Junior & XXIII Senior European Championships, 16-18 May 2008, Wroclaw, Poland
2. International taekwon-do federation
President: Professor Chang Ung, IOC Member
Draugasse 3
1210 Vienna
Austria
http://www.itftkd.org/
8th Junior and 3rd Veteran World Taekwon-Do ITF Championships
in Uzbekistan, Tashkent 17. - 21. september 2008
EITF - Europe ITF tekwondo federation
Amruseva 7
10000 Zagreb
Croatia
President: Anto-Toni Nobilo
http://www.aetf.taekwondo.cz/
http://eitf.taekwondo.cz/
http://www.europe-itf.eu
23th Senior & 14th Junior ITF Taekwon-Do European Championships in Porec, Croatia, 28th May - 2nd June 2008
http://itf.euro2008croatia.com/
3. International taekwon-do federation
President: Choi Yun HWA
Yiewsley Leisure Centre
Otterfield Road, Yiewsley
United Kingdom UB7 8PE
http://www.itf-administration.com/

XIX° ITF Senior, X° Junior, II° Veteran EUROPEAN TAEKWON-DO CHAMPIONSHIPS 2008, CAGLIARI - SARDEGNA - ITALY, 3rd July 2008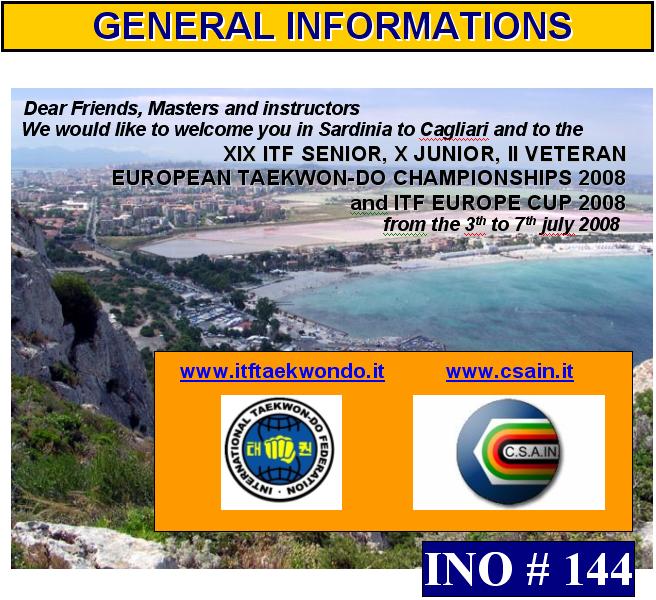 Croatian ITF team:
4. Tae kwon-do International
President: Master Dave Oliver 7th Dan
http://www.tkdinternational.ie/a_tagb.html
http://www.tkdi.biz/
The Tae Kwon-Do International European Championships was held in Cork City, Neptune Stadium, Ireland on April 26th & 27th in 2008.
http://www.youtube.com/watch?v=nMJ3DB6lnWc