Source:
http://kickboxingitalia.blogspot.com/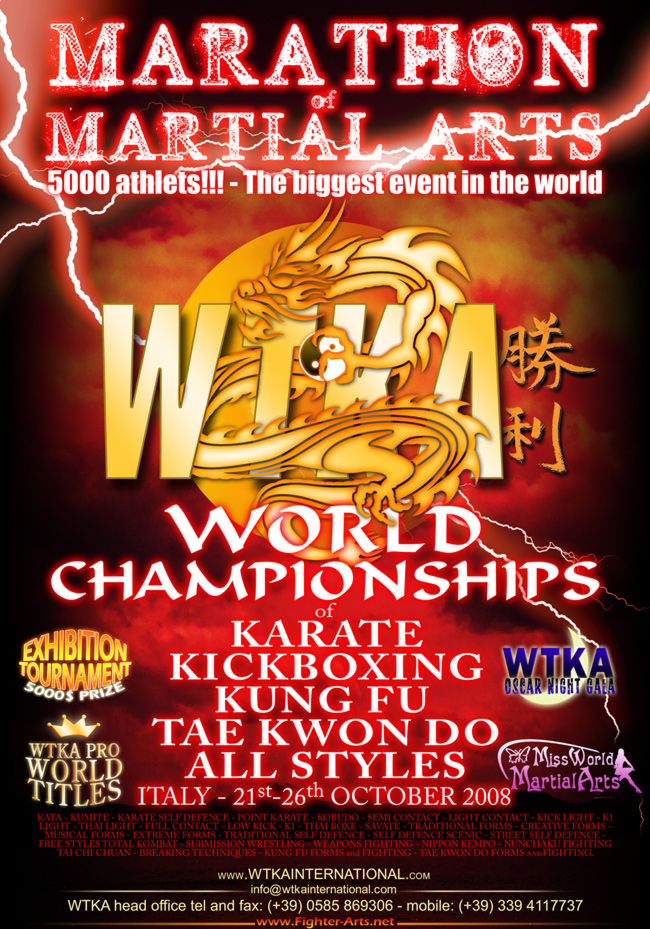 New edition of WTKA Open World Championships & Marathon of Martial Arts was held in Marina di Carrara from 20th to 26th October 2008.
With 5000 competitors coming from 78 countries from all 5 continents:
JAPAN, ITALY, GEORGIA, ENGLAND, IRELAND, BELGIUM, MACEDONIA, USA, SPAIN, HOLLAND, BRASIL, MEXICO, GERMANY, SWEDEN, FINLAND, DENMARK, ARMENIA, FRANCE, SCOTLAND, SOUTH AFRICA, CZECH REPUBLIC, SLOVAKIA, ISRAEL, CHILE, POLAND, SWITZERLAND, KOSOVO, BANGLADESH, ROMANIA, CANADA, CATALONIA, SLOVENIA, MOLDAVIA, SENEGAL, CAMEROON, MAURITIUS, IRAN, PALESTINE, EMIRATES, SINGAPORE, AFGHANISTAN, AUSTRALIA, GREECE, HUNGARY, RUSSIA, EGYPT, ALBANIA, DOMINICANA REPUBLIC, UZBEKISTAN, KAZAKISTAN, KYRGYZSTAN, PERU, NEW ZEALAND, COLOMBIA, BERMUDA, ARGENTINA, CAMERUN, NIGERIA, ECUADOR, PHILIPPINE, JORDAN, INDIA, LITUANIA, PAKISTAN, PORTUGAL, SRI LANKA, VENEZUELA, CROATIA, AUSTRIA, BULGARIA, TURKEY, SERBIA, MONTENEGRO, HAWAII, PANAMA, GIAMAICA, NICARAGUA, TRINIDAD & TOBAGO, MALAYSIA, ISLE OF MAN.
The Tournament was Opened to all Federations, Clubs and Organizations, Associations with an unlimited number of competitors without any restriction (only for WAKO kickboxing members forbidden).
The Tournament was held in Italy Marina di Carrara the beautiful location of last year.
Competitions started officially Wednesday 22nd October after the Opening Ceremony.
The Opening Ceremony was more great than the last years.
The Sport Halls is "Carrarafiere" complex:
www.carrarafiere.com
the great and innovative location of last year.
But this year was bigger competition area: 14.000 square metres, Because of 5000 competitors from any part of the world.
Carrarafiere is a great innovative building with more than 30.000 cover square metres. It is famous all around the world thanks to its services and events that are organized inside.
Marina di Carrara is located in Tuscany in the middle between Sea and Alpi Apuane mountains.
WWW.WTKAINTERNATIONAL.COM